Updates, Stories,
& Live Feeds
NCBNEWS WINTER 2018
The Western Writers of America Cookbook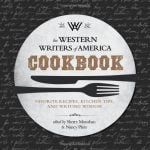 With more than 650 members including Anne Hillerman, Craig Johnson and Sandra Dallas, the sixty-year-old Western Writers of America has members all over the United States writing in genres from traditional Western fiction to suspense to academic nonfiction. This cookbook celebrates the Western tradition and includes voices and dishes of varied and prolific authors. Filled with more than 150 recipes, anecdotes, and stories from some of America's most popular writers and personalities, this collaborative effort has a writerly sensibility and a Western point of view. Including recipes for drinks, appetizers, main dishes, side dishes, desserts, and fun extras—as well as stories from and profiles of the contributors, this is both a Western book and a cookbook that moves beyond the genre.
Edited by Sherry Monahan,  Nancy Plain
Nancy Plain on Voices of the West
Listen to Nancy Plain, the President of the Western Writers of America, discuss WWA and her book
about the life of iconic Western painter, Charles Russell.